Mile High Club member and Trolly Dolly extraordinaire Pam Ann arrives in Zurich at the end of April for two shows at the wonderful Dolder Grand Hotel.
Zurichexpats.com was able to ask her a few questions recently about her visit to our fair city (contains some adult references!)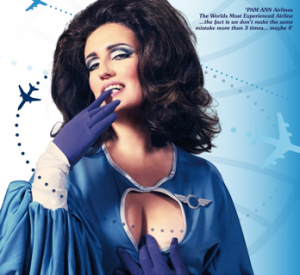 Welcome to Zürich, Pam. How does our city compare with others you have performed in?
It is always so wonderful knowing I am coming to Zurich again. I have had some of my best shows in Zurich, the audiences are open and up for a laugh.
On my tour in 2009 I was invited to a house party of some fans, they didn't expect me to come and I surprised them, it was awesome. They still remain some of my best friends to this day.
So Zurich holds a special place in my heart.
What's it like playing to a Swiss audience?
At first I thought the Swiss were quite reserved but as the show continued I realised they were very open and they actually encouraged me more and more I think I ended up doing a 2hr show when it was suppose to be only 1hr 15min.
To me that is a sign of a great audience connection you don't get that everywhere.
Are you looking forward to appearing at one of Europe's finest hotels?
Wow the Dolder Grand reminds me of something out of a James Bond film. It is so chic and so picturesque, moments like those I am so grateful for. They are memories I have forever. It is a real honour for me to be not only staying at the Dolder Grand but to be also performing is super exciting and so glamorous, which is so Pam Ann.
Maybe I will meet my Zurich Prince?
I am actually performing the night of the Royal Wedding which makes it oh so much more Dolder Grander and glamourous. I am very excited.
What insider tips can you offer air travelers in this age of body scanners and liquid restrictions?
Personally I take as little on board as possible, I wear clothes and shoes that are easy to get on and off quickly. Pam Ann however loves an inappropriate pat down she takes liquids through and hides metal in her bra and up her vajootza, just so she gets pulled aside.
It depends if you are bit lonely and haven't been felt up in a while it's a great opportunity. There is always something exciting about full body search.
Have you ever deliberately crashed your cart into a passenger's leg?
Oh yes Pam Ann has not only crashed her cart into passenger's legs she has run over passengers and killed them.
Last question. What would you do if Charlie Sheen was on your flight and demanded a glass of tiger blood?
Pam would go and kill an economy passenger siphon their blood pour it into a champagne flute and serve it on a silver tray to Mr. Sheen and just tell him is was 'Tiger Blood' Any request from First Class passengers on Pam Ann Airlines we will Endeavour to fulfil.
From Tiger blood to a baby seal throws nothing is too much.
Pam Ann performs her show "You F' Coffee" at the Dolder Grand Gallery on Friday and Saturday 29th & 30th April 2011.
More information and tickets available at 5avenue.ch.
Even more info on Pam Ann available at PamAnn.com and on her Facebook Page, Twitter Page and YouTube Channel.